fall 2023 issue: "By Invitation Only" An homage to ELLEN VON UNWERTH
To My Dearest Ellen,
Thank you for this extraordinary gift of love, filling 68 pages in this edition with your resplendent photography, including this edition's front, back covers. Thank you for your unwavering kindness and support for my beloved FADDY Magazine USA. This issue, it's an embodiment of love, and most of all, my profound appreciation for the love you've showered upon me over the years, as both a friend and an enduring source of creative influence in my role as Editor in Chief.
Words could spill endlessly about how you and your artistry have transformed and enriched my life, but it feels more fitting to let this beautiful celebration and homage do the talking—about how I feel, and how these talented creatives feel about you.
I've always said, Ellen has the power to illuminate a city without the need for electricity. Witnessing her work in person is akin to witnessing a mesmerizing dance. I speak from firsthand experience, having had the honor and privilege to collaborate with Ellen on a set in the heart of New York City. It's an experience that's truly life-altering, much like the magic she weaves with her love and friendship.
So, without further ado, I present to you our Fall homage issue—an ode to one of the most gifted and enchanting female photographers to grace this planet. The magical, the beautiful, the iconic—Ellen Von Unwerth.
Ooxx,
Candice Solomon
Publisher/Editor In Chief, Faddy Magazine USA
FADDY MAGAZINE FALL 2023 400 PAGE FULL ISSUE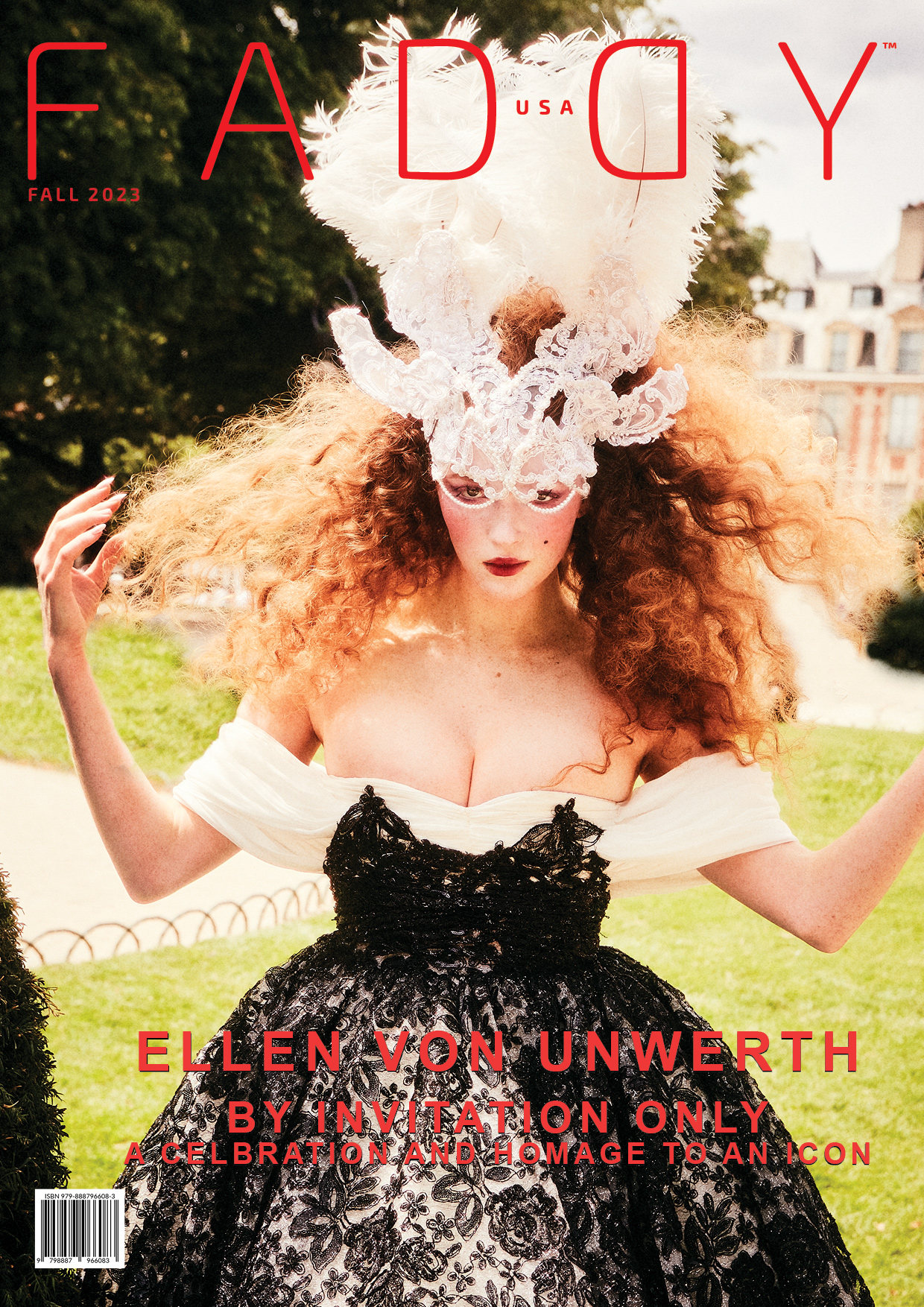 In This Issue
Faddy Magazine USA is proud to present our Fall 2023 issue, titled "By Invitation Only," paying homage to the legendary Ellen Von Unwerth.
This issue features a stunning photo editorial shot by Ellen Von Unwerth in Paris, France, titled "By Invitation Only."
On our inside cover, we have "When Night Falls" by Tugcan S. Temizkan, styled and creatively directed by Nathan Watson.
Patrick Walter introduces us to Tank Girl, while Joy Corrigan stars in "The Joy Of Life" photographed by Freddy Koh, styled by Danny Santiago, and produced by our Editor-in-Chief, Candice Solomon.
Jurji Treskow brings us "Pillow Talk" followed by Nick D'Oazio's "After Dark."
Win Lin takes us to "The After Party" and Daria Valigras presents "A Room With A View" all complemented by "The Starlets" photographed by Andrew Kuykendall.
SPECIAL EDITION ELLEN VON UNWERTH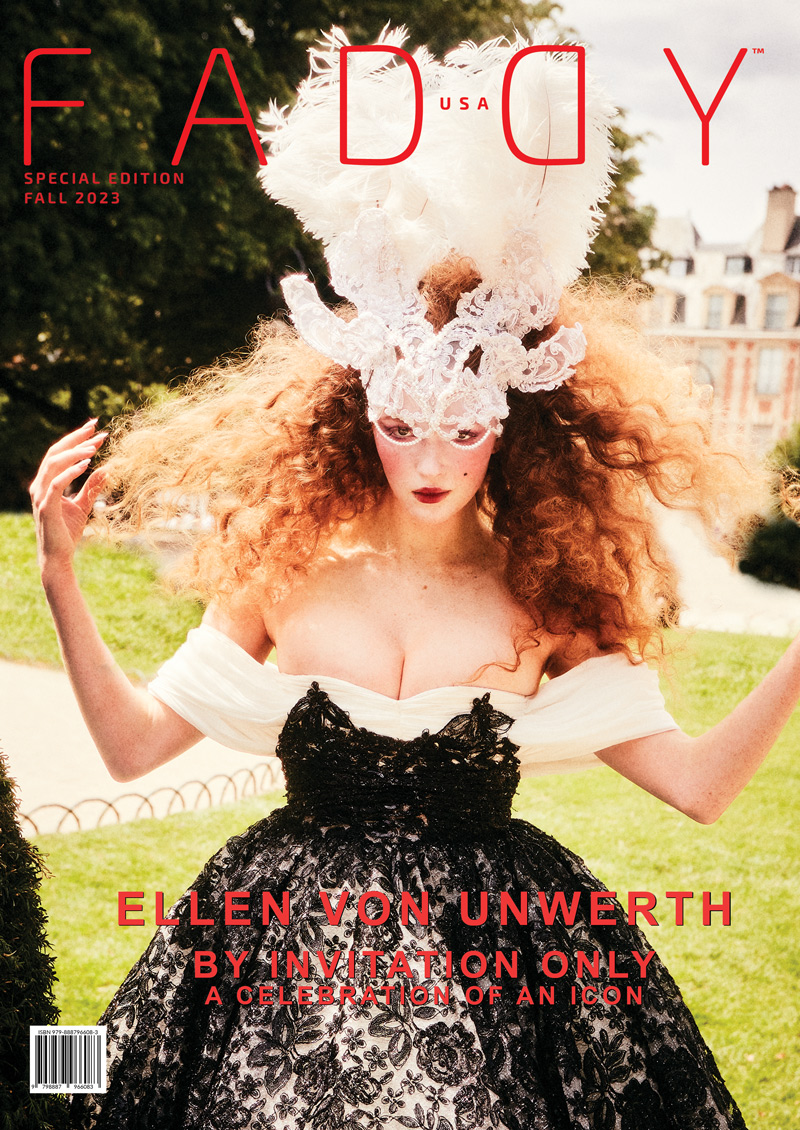 In This Issue
Faddy Magazine USA is proud to present our Fall 2023 issue, titled "By Invitation Only," by ELLEN VON UNWERTH celebration  of an icon.
This issue features a stunning photo editorial shot by Ellen Von Unwerth in Paris, France, titled "By Invitation Only." containing over 90 stunning page.
Welcome to the exquisite world of Faddy Magazine USA, where fashion, photography, and art intertwine to create an unparalleled sensory experience. Nestled in the heart of New York City, under the expert guidance of the esteemed fashion professional and Editor-in-Chief, Candice Solomon, Faddy Magazine USA is your ultimate destination for the latest trends from industry leaders and innovative newcomers alike.
At Faddy, we understand that fashion is more than just clothing; it's a form of self-expression, a visual language that speaks volumes. Through our carefully curated pages, we strive to showcase the evolving landscape of fashion and capture its essence through the lens of brilliant photographers and artists.
With a discerning eye for talent, Faddy Magazine USA presents the most captivating works from renowned figures who have shaped the industry, as well as emerging talents who are pushing boundaries and challenging the status quo. From the visionary creations of established names to the groundbreaking perspectives of rising stars, each issue of Faddy offers a glimpse into the dynamic and ever-changing world of fashion.
Our dedication to fashion photography is unwavering. We believe in the power of visuals to ignite emotions, provoke thoughts, and transport you to alternate realms. Through the lenses of our featured photographers, we bring you exquisite editorials that seamlessly blend artistry, storytelling, and cutting-edge fashion aesthetics. Prepare to be captivated by striking imagery that embodies the spirit of our times and leaves an indelible mark on your imagination.
 As you turn the pages of Faddy Magazine USA, you'll find yourself immersed in a world where fashion and art intertwine effortlessly. We explore the symbiotic relationship between these creative realms, delving into the minds of industry leaders and discovering new voices that challenge conventional norms. From the runways of New York to the ateliers of Paris, from the bustling streets of Tokyo to the studios of London, Faddy leaves no stone unturned in its quest to uncover the pulse of contemporary fashion.
Under the guidance of our brilliant Editor-in-Chief, Candice Solomon, Faddy Magazine USA has become a beacon of inspiration, a platform that celebrates the transformative power of fashion and its impact on society. With her wealth of experience and discerning eye, Candice ensures that Faddy Magazine USA remains at the forefront of the industry, paving the way for new ideas, fresh perspectives, and remarkable talent to flourish.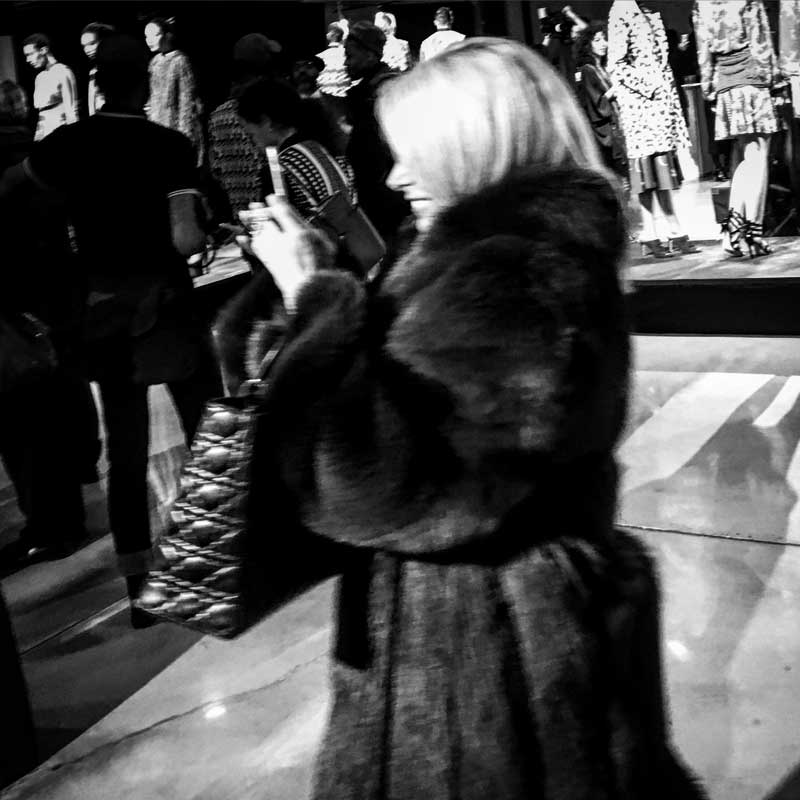 So, dear readers, prepare to embark on a remarkable journey through the pages of Faddy Magazine USA. Join us as we explore the latest fashion trends, revel in the artistry of fashion photography, and discover the voices that shape our collective sartorial narrative. Welcome to a world where creativity knows no bounds and fashion is the catalyst for expression, innovation, and limitless possibilities.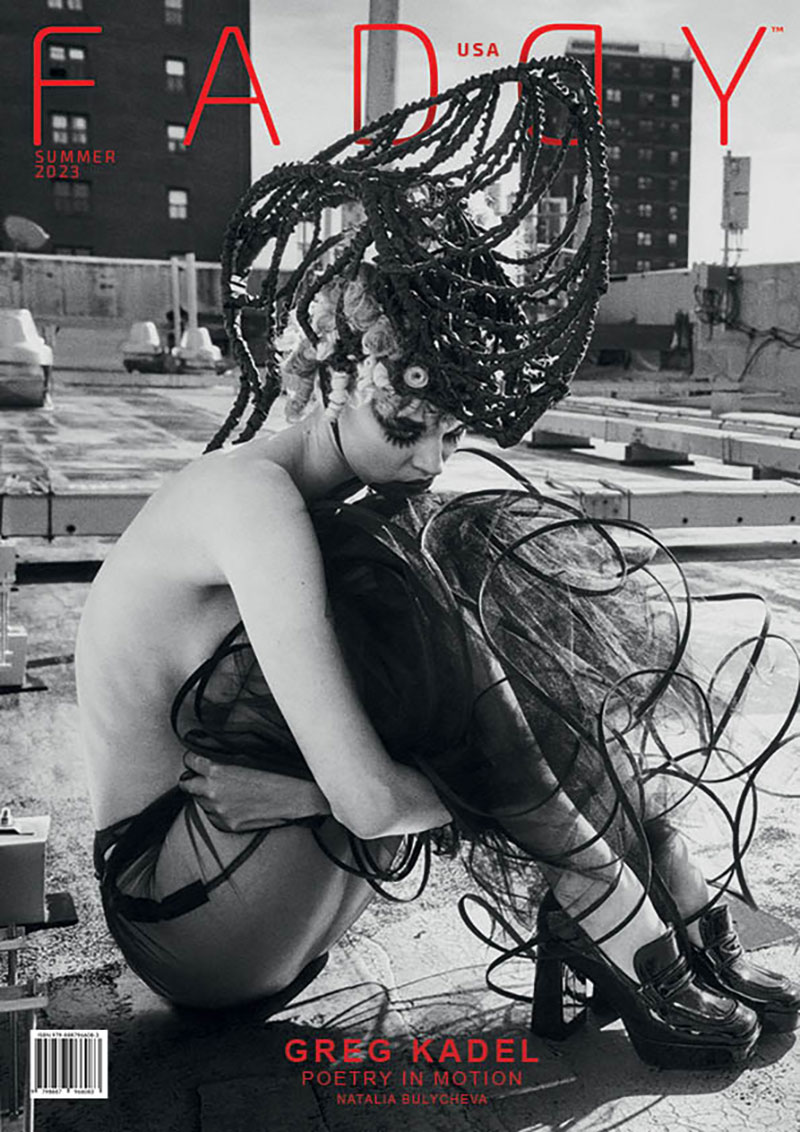 Faddy Magazine USA Summer 2023 Poetry In Motion
FADDY USA: Summer 2023
FADDY Magazine USA is pleased to offer the Summer 2023 "Poetry In Motion" issue featuring cover story by Greg Kadel with cover girl Natalia Bulycheva. Greg Kadel Studios feature, shot in New York city brings freedom, motion, fulidity with a rooftop views of The Big Apple. US born fashion photographer and filmmaker based in New York, his images have been described as "classic with a modern flair" and he is respected for his unique ability to bring the best out of his subjects. He currently spends his time working between New York, Paris, and Los Angeles.
GL Wood our inside cover brings us a incredible "Retrospective"
Christopher Polack's  "Sensory Awakening" 
AI with Glashier's "Midnight On Mars", 
"Great Cinema in One Picture" by Christian Angerer
FADDY Magazine USA's inside cover for our Fine Art Issue Mark Arbeit's "Artust Atelier" covers 
George Holtz's "fine-art nudes" 
Mike Azria brings the Southern California sunshine with Destination Sublime. .
All rounded out with BENT Innocence by Foster R.I.P. An authentic, gritty, old-skool NYC pictorial featuring some of the brightest young talent that makes NYC, NYC.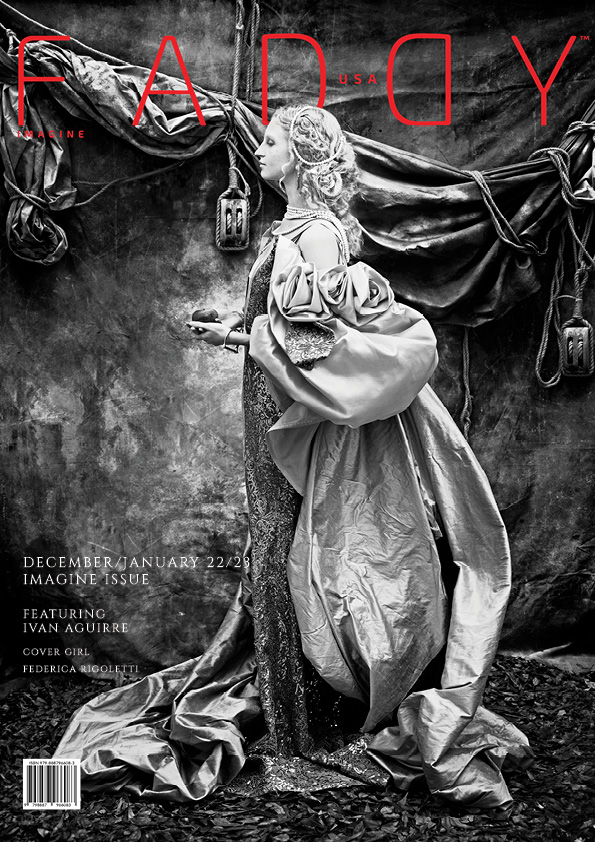 Faddy Magazine USA Winter 2023 Imagine Issue
FADDY USA: winter 2023
Faddy Magazine USA is pleased to offer the Winter 2022/2023 Imagine issue featuring cover story by Ivan Aguirre with cover girl Frederica Rigoletti.
Foster Caleb is our inside cover introducing model and muse Annika Dalland in "Perpetual Revival" styled and produced by FADDY USA's editor in chief, Candice Solomon.
Also included in Winter Imagine Issue is the spellbinding "Don Not Disturb" featuring designer and muse Yeha Leung shot by word renowned photographer Erez Sabag.
Eugenio Recuenco brings us the magical creative "We Are Guilty."
Here at Faddy USA we adore the 1978 film "The Eyes Of Laura Mars." Creative directed & produced by Candice Solomon, Williams Thacker brings us his spin and finder "The Eyes Of Mars." We love it! You will to.
Freddy Koh flew in especially from Mexico City and joined Candice Solomon her Faddy Magazine USA's team in a Manhattan Soho landmark "Butterfly" and brings a feature that flutterers in magical moments. Take a peak!
Rounding out the issue is the iconic female artist Penny Slinger. An intimate interview & studio visit contduced by Linda Arroz complements a in depth survey of her work.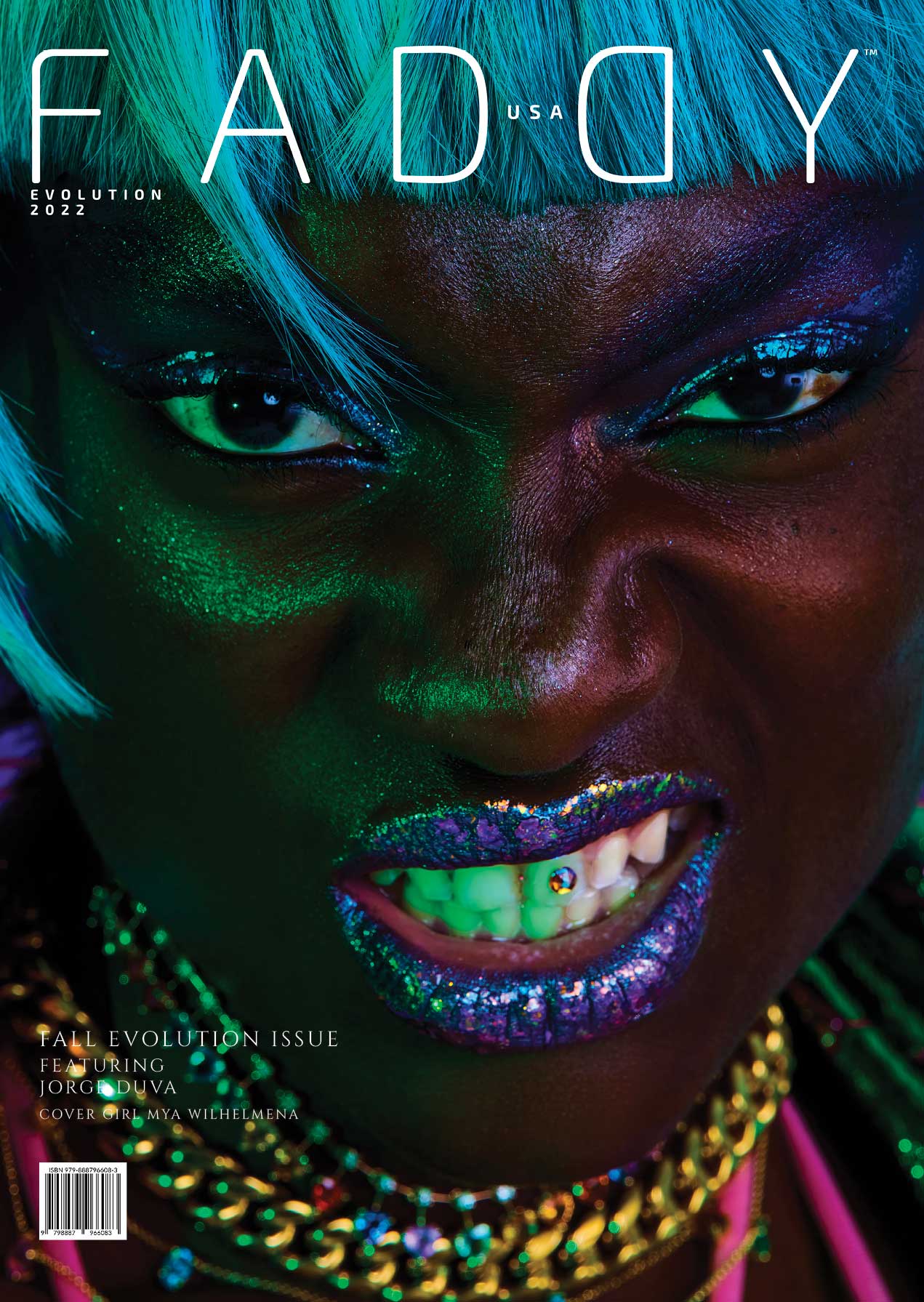 Faddy Magazine USA Fall 2022 Evolution Issue
FADDY USA: Fall 2022
Faddy Magazine USA is pleased to offer the Fall 2022 Evolution issue featuring cover story by Jorge Duva with cover girl Mya Wilhelmena.
Volker Hermes is our inside cover with his incredible masks portraits and we are thrilled to share our exclusive interview by Linda Arroz.
Also included in fall Evolution issue is the spellbinding HECATE by Mexico City photographer Eugenio Andrade Schulz.
The brave, strong and future focused designer DZHUS creating against all odds in the Ukraine.
Rounding out the fall issue is Faddy USA's in person highlights of New York Fashion Week, Spring Summer 2022-20223. Staff photographer Foster Caleb and filmmaker Lera Loeb bring you New York En Noir.
This on the ground feature brings you inclose for an intimate look at Naeem Khan's fashion show presenting Jardin De Nuit. Followed by the incomparable Frederick Anderson and his show The Garden Party.
Followed up with Omar Hernandez's Oh La La! Fall 2022 celebrating NYFW 2022.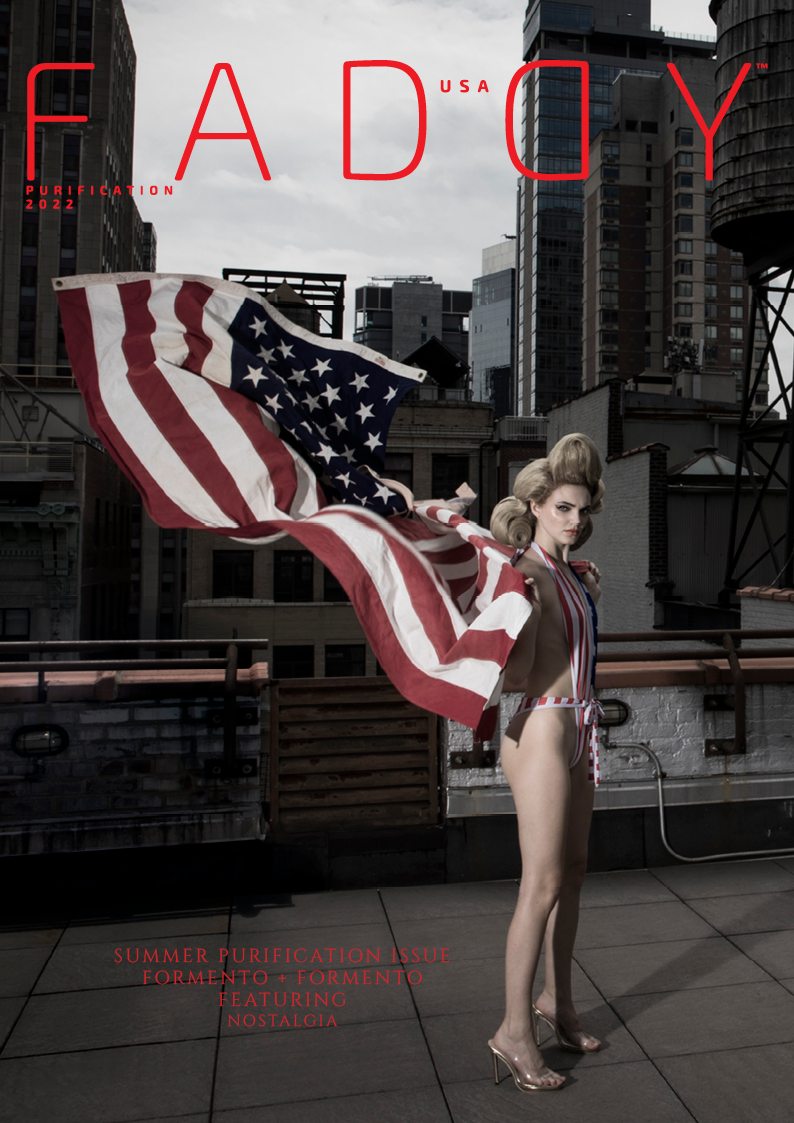 The Purification Issue
FADDY USA: Summer 2022
Faddy Magazine USA is pleased to offer the Summer 2022 Purification issue featuring cover story by FORMENTO + FORMENTO NOSTALGIA.
Elena Paraskeva is our inside cover with her incredible spellbinding selection from her "Victorian Spring", "Keeping The Distance", "The Lost Swimmer" and "Sara" stories.
Also included in summer Purification issue are Honglin Cai's "Fly A Kite." FADDY USA is also proud to introduce rising stars Jingyi Xie & Martina Durikovicova from the Central Saint Martins.
Rounding out the summer issue is TOMAAS and his MEtaSurrealist which challenge our traditional notions of beauty and eroticism.
Who is Cody Rothschild? Take a peak inside to see an authentic New York City point of view.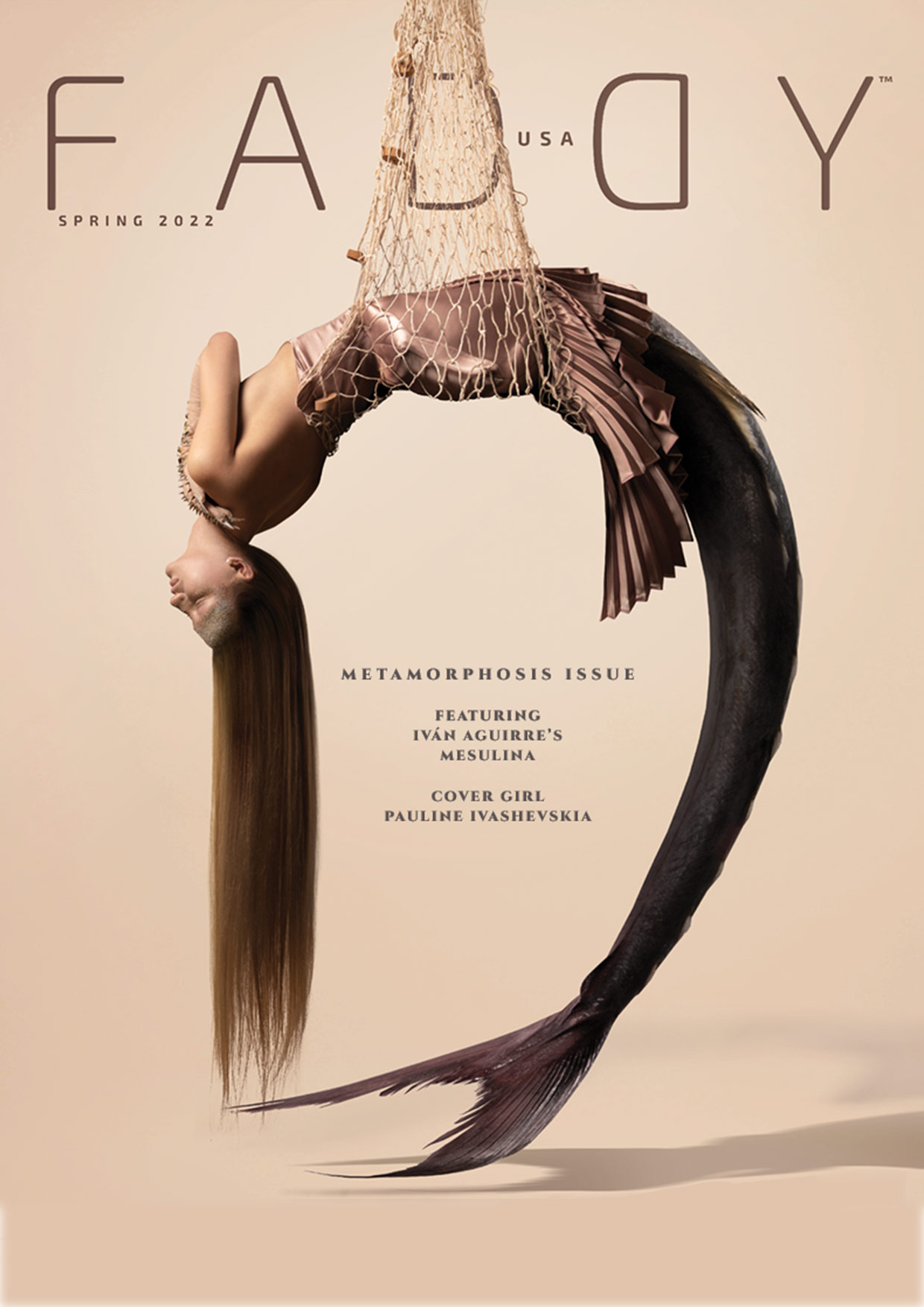 The Metamorphosis Issue
FADDY USA: Spring 2022
Faddy Magazine USA is pleased to offer the Spring 2022 Metamorphosis issue featuring cover story Iván Aguirre's Mesulina.
We're excited for you to experience the Inside cover and feature story by the incredible Paul Westlake's "Dream A Dream".
Also included in the Metamorphosis issue is Julia SH and the "Beauty of Burlesque" and the incomparable Edgar Tescum. Rounding out the issue we would like to introduce you to William Thatcher.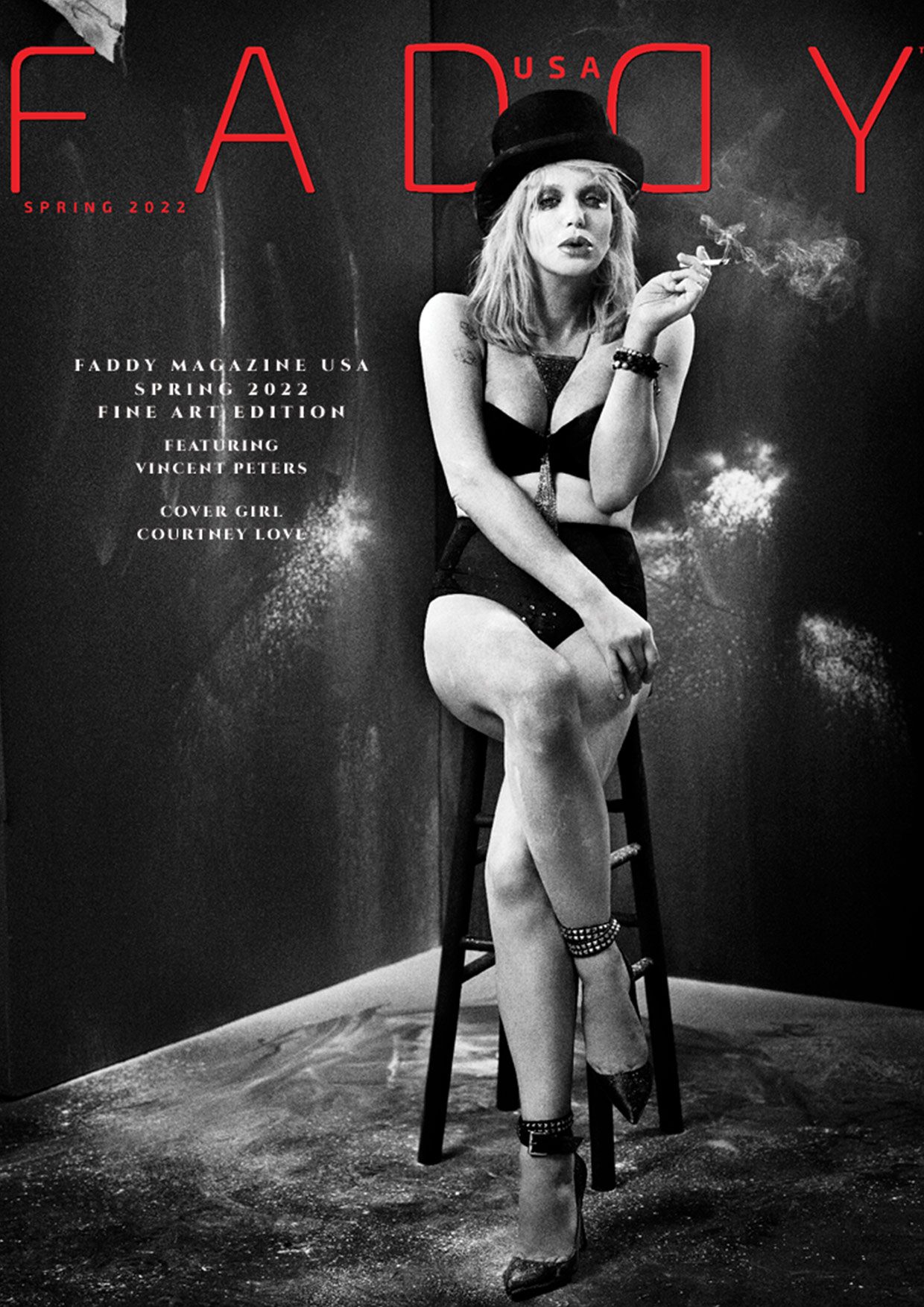 The Fine Art Issue
FADDY USA: Spring 2022
Faddy Magazine USA is pleased to offer the Spring 2022 Fine Art issue featuring cover story by VINCENT PETERS featuring the iconic and this issues cover girl Courtney Love. The back cover is also a VINCENT PETERS image with Maggie Gyllenhaal.
We're excited for you to experience the Inside cover and feature story and absolutely stunning photography by DANIELA MÖLLENHOFF.
Also included in this issue is are Jurij Treskow's contemporary and intimate urban vision and a selection from Pablo Almansa's portfolio.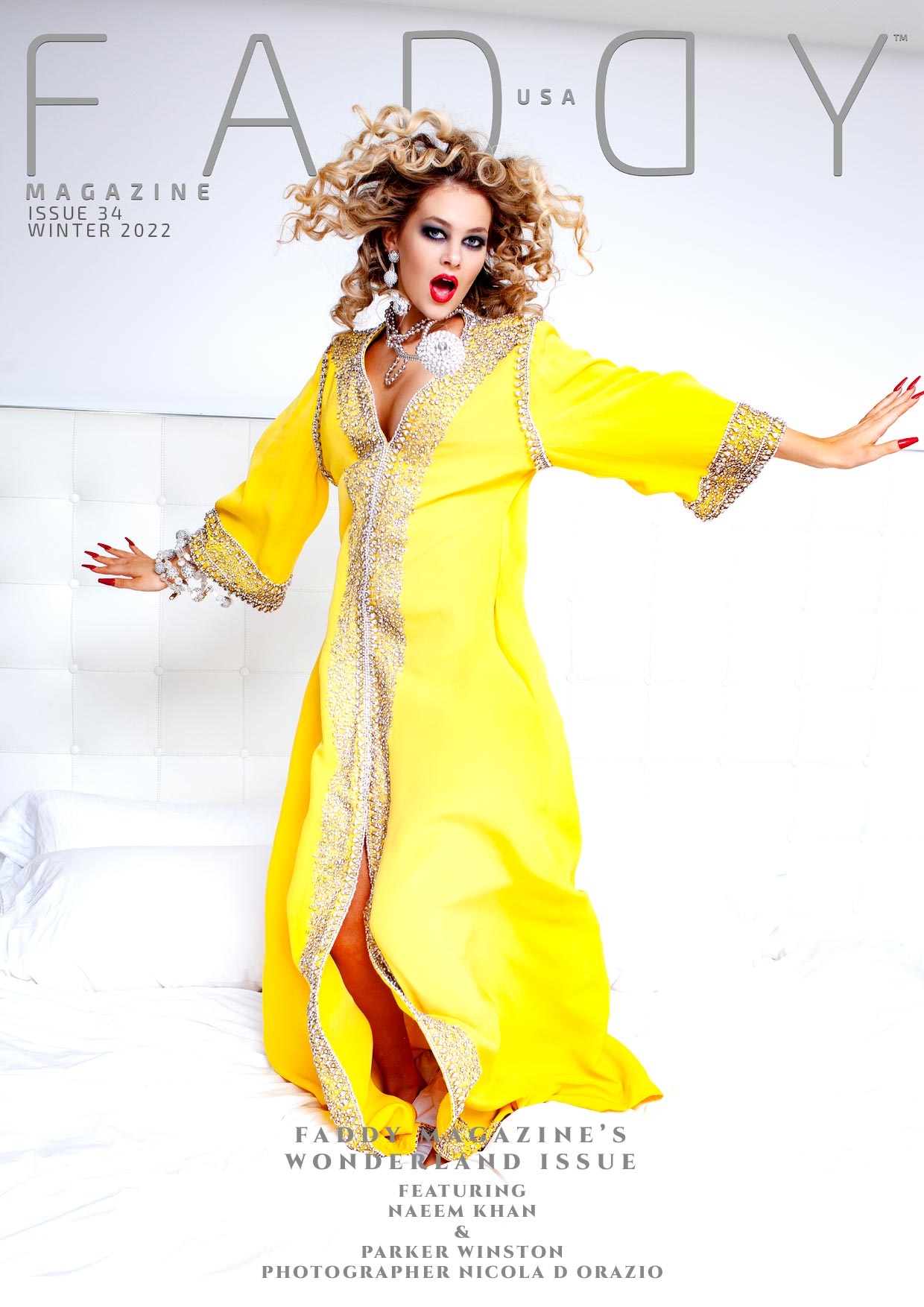 The Wonderland Issue
FADDY USA: Winter 2021
Featuring the iconic Naeem Khan and cover girl Parker Winston. Also in this issue is "All Things Patricia" Patricia Field that is!
Inside cover featuring Greg Kadel, special features by Stefanie Renoma, Christoph Michaelis, Rubin Campos & Freddy Koh returns with EXSEXXX.
Featured New York artist Robert Santoré.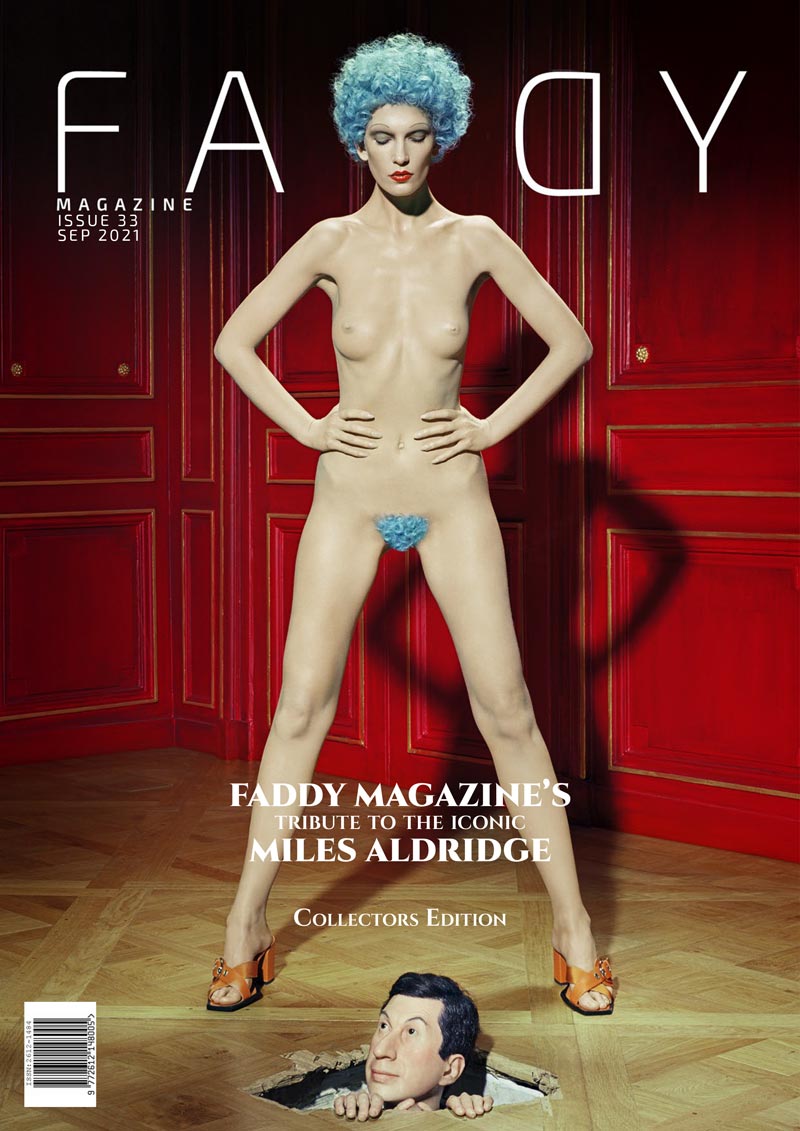 Tribute To The Iconic Miles Aldrige
FADDY USA: Issue 33 – September 2021
Miles Aldridge, Ivan Aguirre, Freddy Koh, Eugenio Recuenco, Anastasiya Otkidach, Magic Owne, Julia Buruleva, Jesue De La Cruz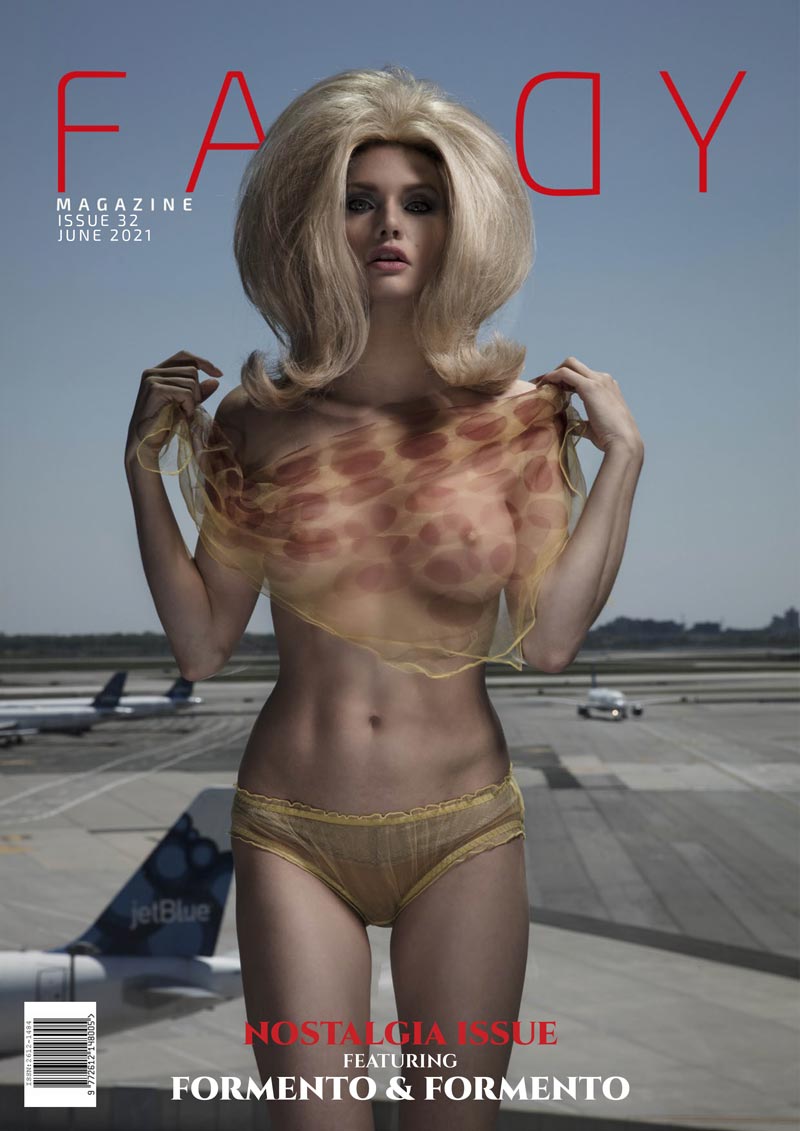 Nostalgia Issue Featuring Formento & Formento
Faddy USA: Issue 32 –June 2021
Formento & Formento, Mathilde Oscar, Bart Ramakers, Gary Sheridan, Sabastian Magnani, Damien Carney, Phillip Perlstein, Hanna Solenthaler, Jurij Treskov, Rebée Jacobs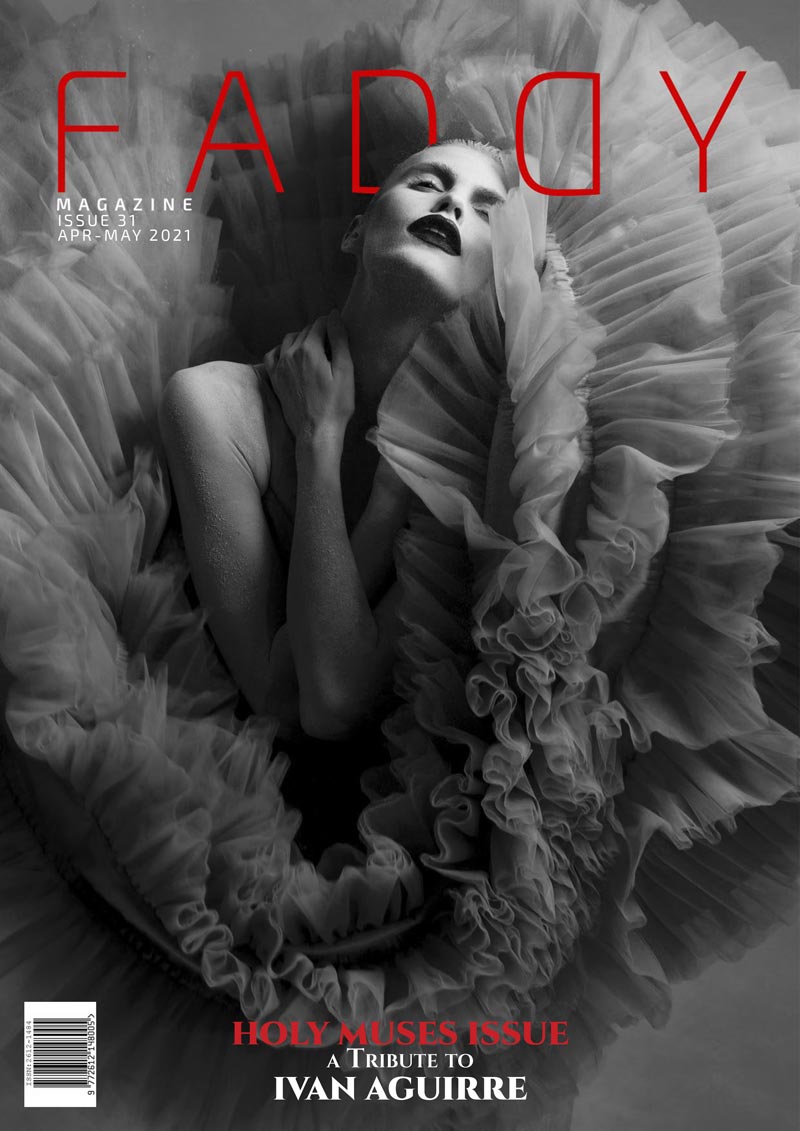 Holy Muses Issue A Tribute to Ivan Aguirre
Faddy USA: Issue 31 – April/May 2021
Ivan Aguirre, Ekaterina Belinskaya, Alice Wonder, Magic Ownes, Vivienne Mok, Lorenzo Taliani, Patty Mather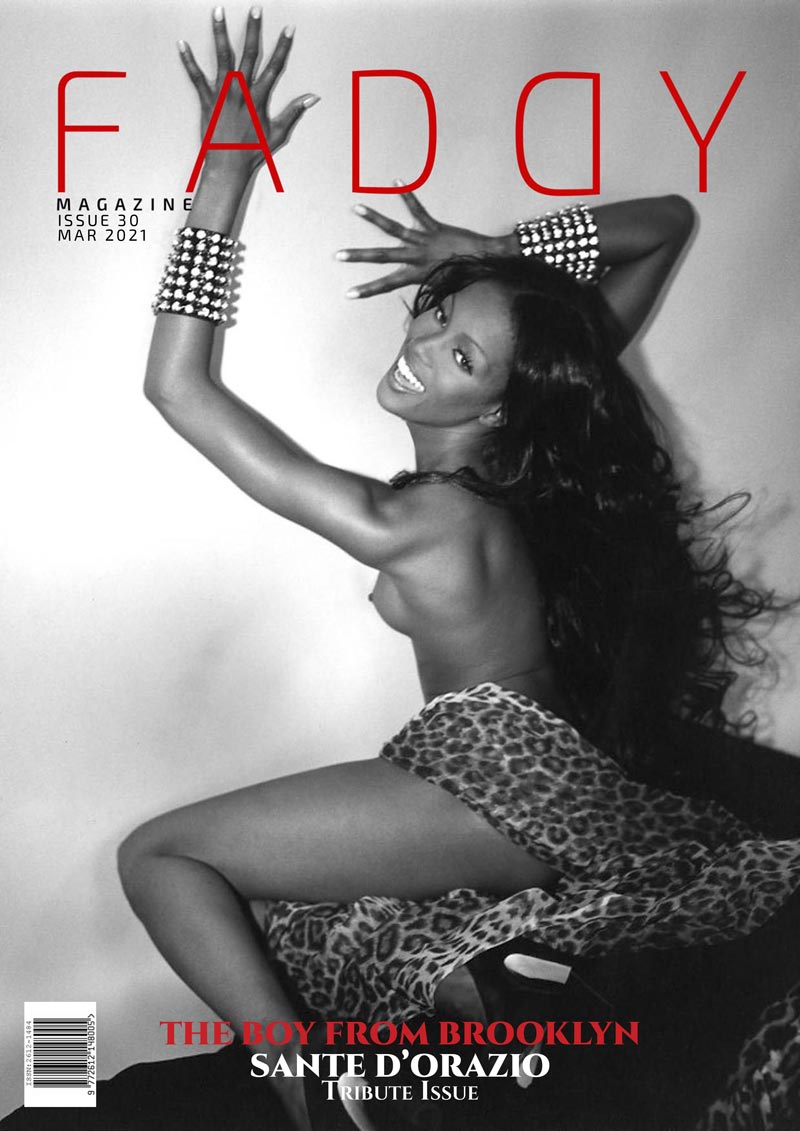 The Boy From Brooklyn Sante D'Orazio Tribute Issue
Faddy USA: Issue 30 – March 2021
Sante D'Orazio, Nicola D'Orazio, Sylvie Blum, Eugenio Recuenco, Mason Close, Daria, Marilyn Clark, Chris Robinson, Rocio Segura, Pablo Almansa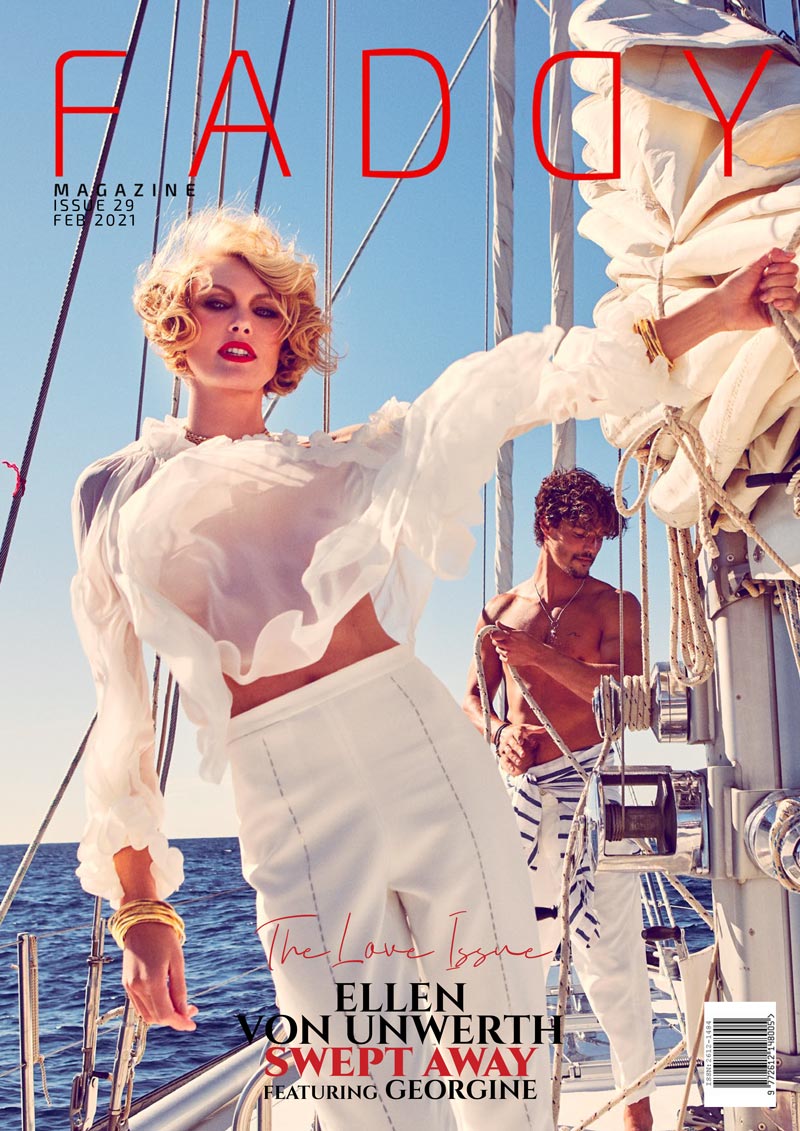 The Love Issue, Ellen Von Unwerth "Swept Away" Featuring Georgine
Faddy USA: Issue 29 – February 2021
Ellen Von Unwerth, Larry Fink,David Drebin, Steven Lyon, Malo, Freddy Koh, Ivan Aguirre, Pauline St. Denis/Newheart S. Ohanian, Severine Guyon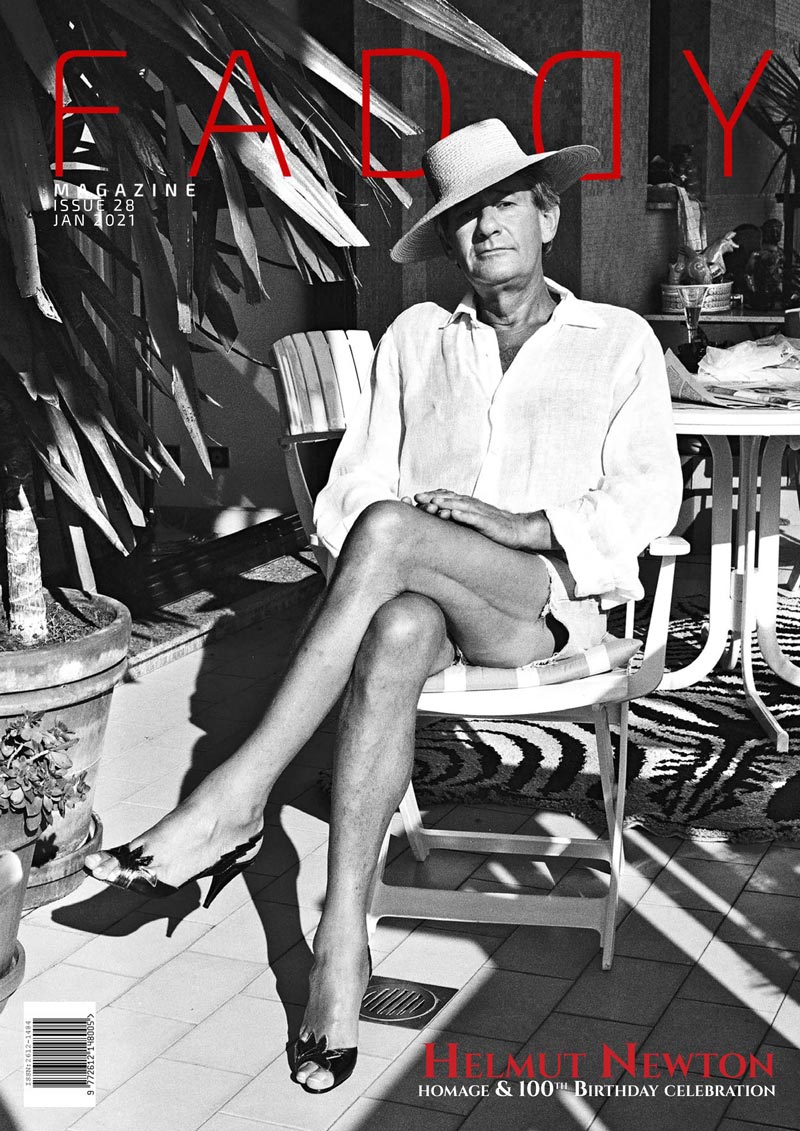 Helmut Newton, Homage & 100th Birthday Celebration
Faddy USA: Issue 28 –January 2021
Helmut Newton, Homage & 100th Birthday Celebration, George Holz, Mark Arbeit, Gero Von Boehm, Steven Lyon, Yves Kortum, Mark Williamson, Gianluca Fontana, Freddy Koh, Miss Aniela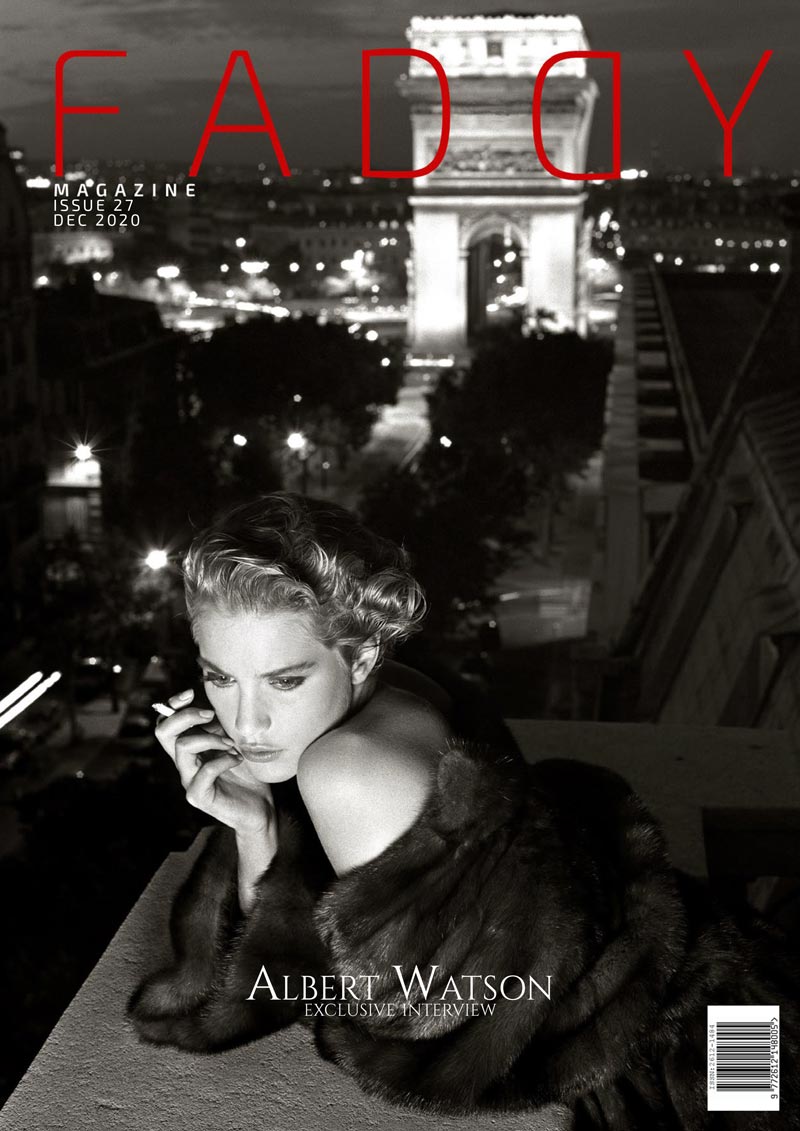 Alber Watson Exclusieve Interview
Faddy USA: Issue 27 – December 2020
Albert Waston, Marc Lagrange, Dressed in Dreams by Melissa Belardo, Yeves Kortum, Sergi Pons, Bayr Ubushi - Flying Solo, Tom Blachford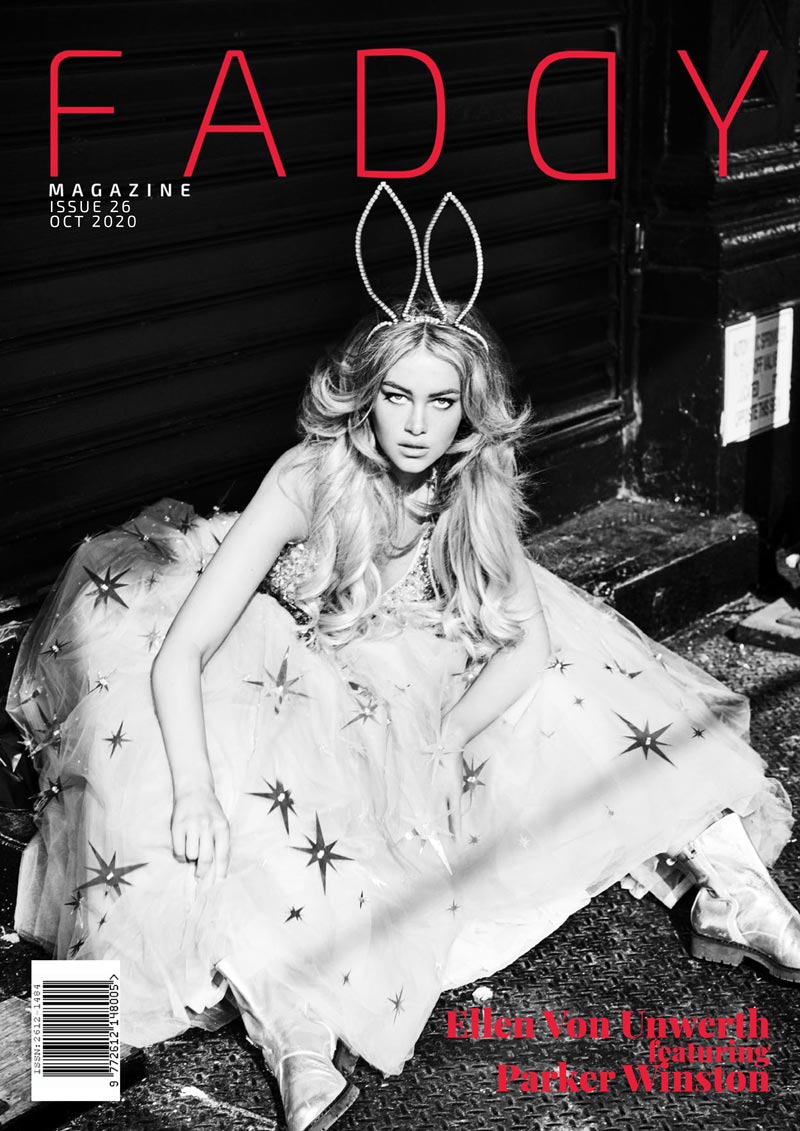 Ellen Von Unwerth Featuring Parker Winston
Faddy USA: Issue 26 – November 2020
Ellen Von Unwerth, When Night Falls by Candice Solomon, Kilian Hnnessey, New York en Noi - Frederic Andserson, Anthony Peto, Dita Von Tess, Le Turk, Brooke Shade, Anja Van Herle, Elle Street Art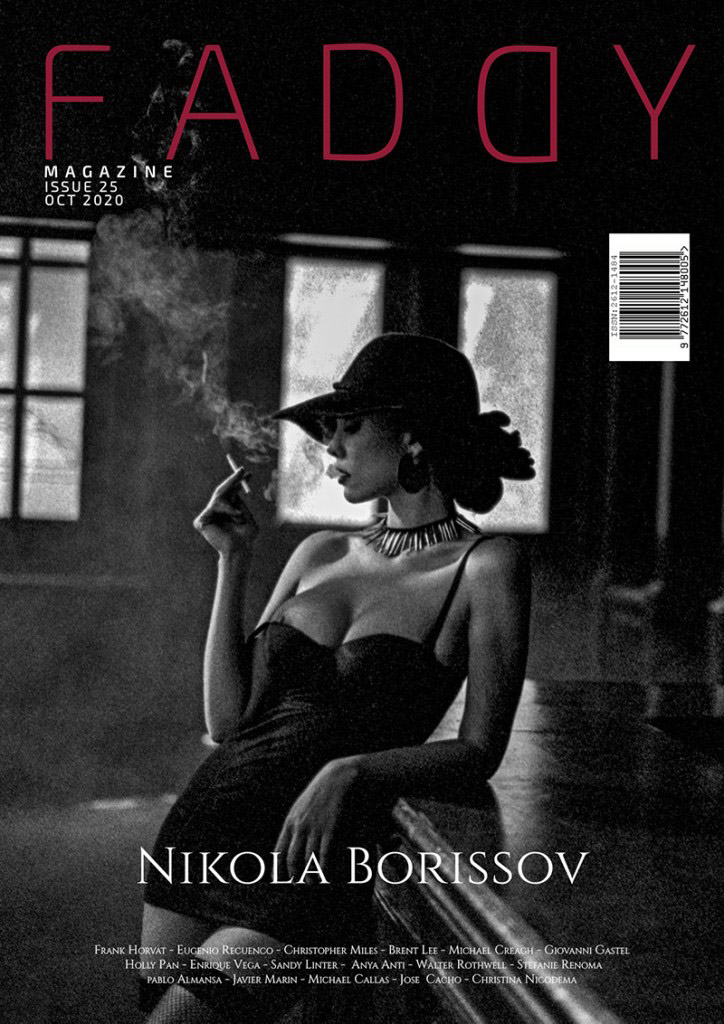 Featuring Nikola Borissov
Faddy USA: Issue 25 – October 2020
NIKOLA BORISSOV, FRANK HORVAT, EUGENIO RECUENCO , CHRISTOPHER MILES, BRENT LEE, MICHAEL CREAGH, GIOVANNI GASTEL, HOLLY PAN, ENRIQUE VEGA, SANDY LINTER, ANYA ANTI, WALTER ROTHWELL, STEFANIE RENOMA, PABLO ALMANSA, JAVIER MARIN, MICHAEL CALLAS, JOSE CACHO, CHRISTINA NICODEMA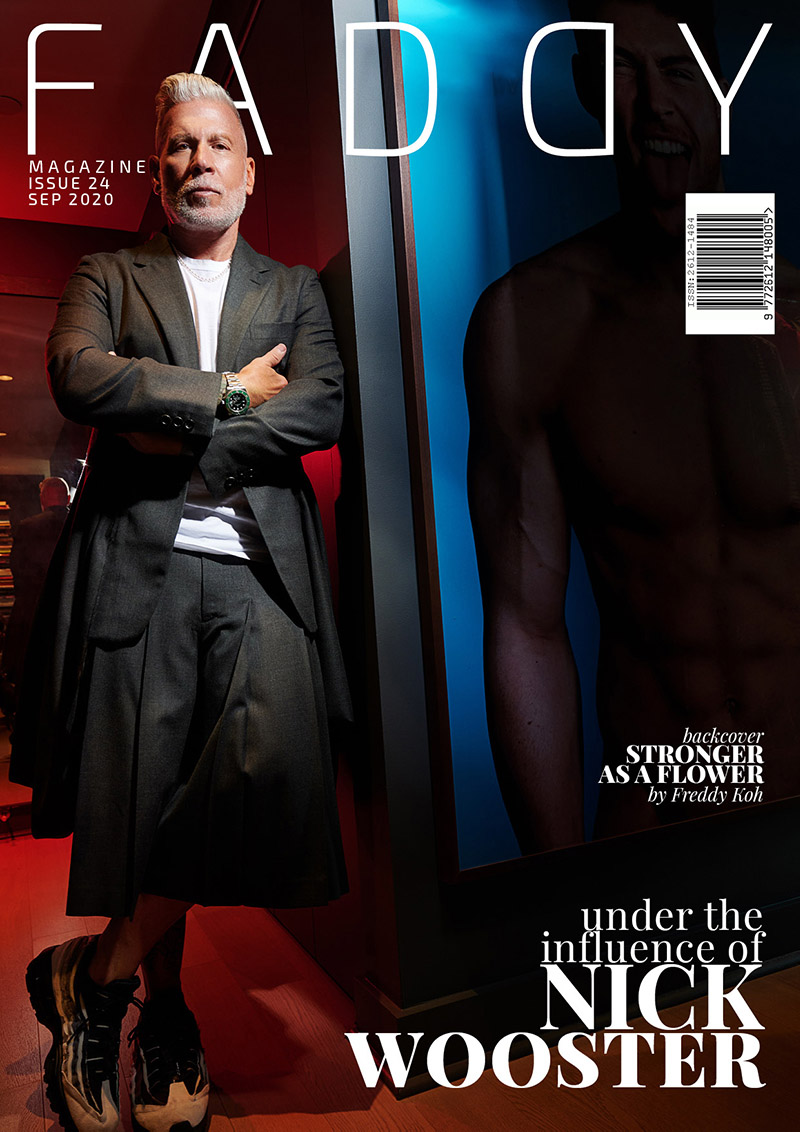 Under The Influencer Of Nick Wooster
Faddy USA: Issue 24 – December 2020
NICK WOOSTER, MARIA BRITO, UDO SPREITZENBARTH, EVELYN TRISTA BAIK, ROMERO JENNINGS, FREDDY KOH, RONALD FLOWERS, PAULINE ST. DENIS, TARA SIMON, KYO JINO, ARTSI, GEORGE RODEZ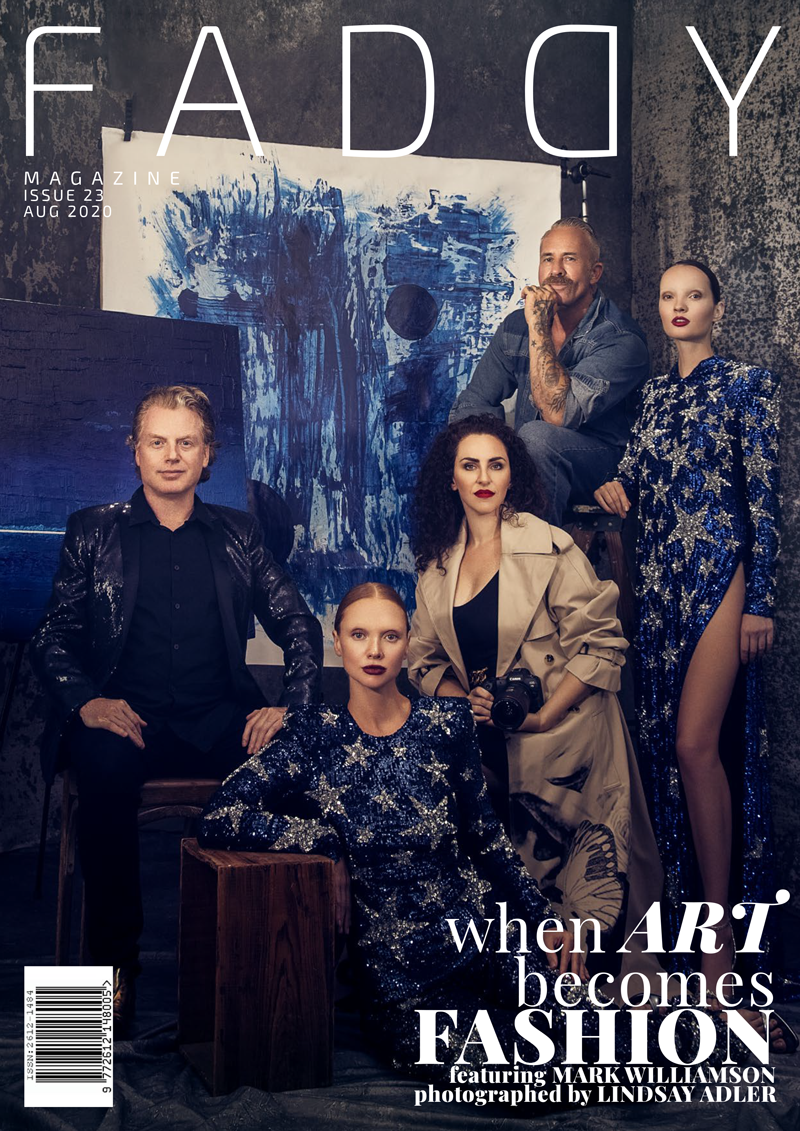 When Art Becomes Fashion
Faddy USA: Issue 23 – August 2020
MARK WILLIAMSON, LINDSAY ADLER, BRENDAN CANNON, STEVEN LYON, FERNANDO GARCIA, JUAN PABLO CASTRO, CINAVA PHOTOGRAPHY, JEFF TROTTER DESIGN, CELESTINO COUTURE, FRENCH DEAL, DOUBLE CROSS VODKA, LOLEA – UTARA ORGANICS, COLU DIAZ, SAINT SINNER, JAMALI, NICOLAS GUZMAN, SARAH SOKOL, CHANGEANTE, GEORGE MAYER
Editor's Blog
What's fabulous, whats trending, what you need to see
I am beyond moved and honored that the Formentos created another epic front and back cover for me and a journey of great story telling through their amazing Nostalgia series at the Dive motel and other locations throughout the country.
I'm truly honored to feature two rising stars from Central Saint Martins both of these young female designers are on the fast track to stardom and I'm delighted to support them in any way I can. 
Everyone in this issue has been carefully selected their stories are woven with great care and love for their craft. I'm also very excited about the direction I've taken Faddy USA. It's been a long road and well worth the sleepless nights and long hours curating and crafting something worth waiting for and a visual delight for the FADDY Magazine USA audience. I say FADDY USA because that is exactly who we are and not anyone or anything else. 
I'm proud of the work that we all have done as a collaborative global family and I look forward to what's coming next. Stay tuned for my upcoming Fall and Holiday issues they will be something to treasure and marvel at. 
Sending everyone big love always.
Candice Solomon
read more
This error message is only visible to WordPress admins
There has been a problem with your Instagram Feed.

FADDY MAGAZINE USA is a global fashion & luxury lifestyle publication headquartered in New York City.
FADDY MAGAZINE USA
New York, New York, United States
Sign up for the FADDY MAGAZINE'S eNewsletter. (We never share your information, with anyone)