FADDY ARTIST: Robert Santoré
Editor's Notes by
Candice Solomon
Publisher & Editor In Chief, FADDY MAGAZINE USA
These Colors
Taste Like
Music
ROBERT SANTORÉ IS AN INTERNATIONALLY COLLECTED CONTEMPORARY ARTIST, PAINTER, SCULPTOR & PHOTOGRAPHER WITH STUDIO PRACTICES IN MANHATTAN, NEW YORK AND AT HIS TEXAS ART RANCH IN MONTGOMERY, TEXAS
Santoré is best known for his series of large format, word paintings and abstract figures. Heavily influence as a boomer generation painter, the colors, music, fashion and advertising of the 1960s & 70s he was exposed to as a child. His "neo-postwar abstract expressionist paintings", a practice he began in 1986. He started introducing words and numbers into his early and notable abstract paintings, such as "Famous" (1986), "Baby Linen" (1987) "Bull Market" (1988) and "Junk Bond" (1989) thus reinstating content.
His use of defined or extant symbols differentiated his paintings from the gestural abstraction of the Abstract Expressionists he was exposed to as a child, (however he include this method of painting) whose paintings were often understood as expressions of the individual personality or psychology of the artist.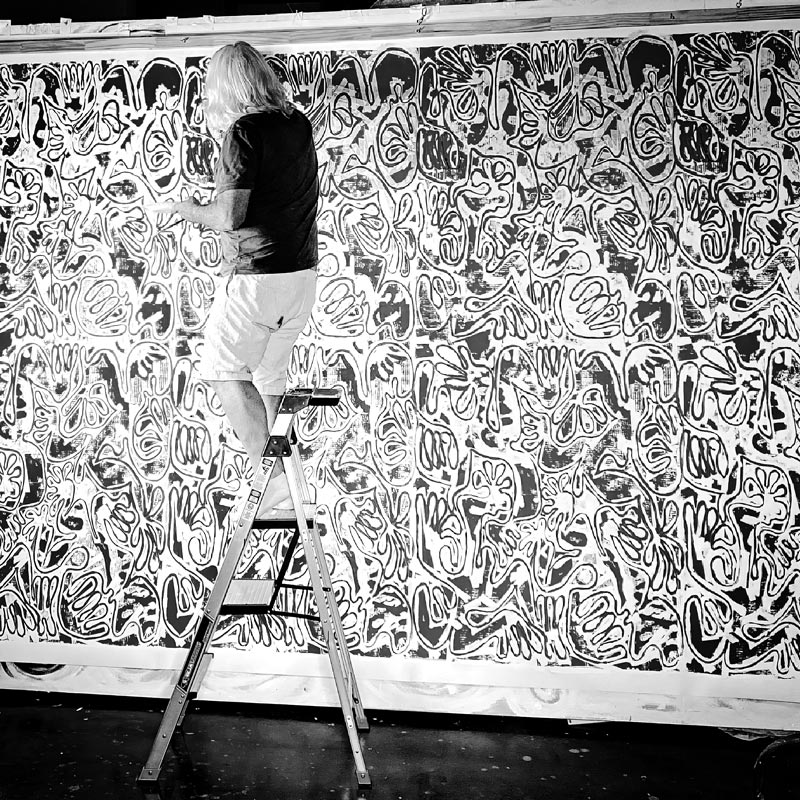 ROBERT SANTORÉ | May of 2021 at his Texas Art Ranch working on "COVID CHAOS TWOxFour" 2021© 100" x 176" (245cm x 447cm) I Oil, oil stick, military and industrial enamels on paper on Belgian linen
Because Santoré regularly imports well-known motifs into the compositions of his paintings they can be read as both representational (factories, figures, aircraft, rockets) and as abstract patterns, curators and collector's characterize his choice of subjects as freeing him from decisions about composition.
Santoré has remarked: "What's interesting to me is developing an interconnected visual language and exploring common element across various narratives and composition. "It's not all mine, rather I don't own it, or, that the visual language I use is repeated and abstracted further and furthe is the process." He states "the mind already knows and challenges the viewer to relearn what they recognize."
He often uses painted reliefs in his paintings which challenge typical conceptions of paintings as two-dimensional. Santoré often uses oil, oil stick, encaustic and military and industrial enamels as a painting method to create multidimensional, textured surfaces in his painting.
Santoré also produces intaglio & giclée prints, steel sculptures and lithographs. Santoré has worked in a variety of printmaking techniques to investigate and develop existing compositions. Initially, lithography suited Santoré and enabled him to create print versions of the visual language that filled his early work paintings.
Robert is 5th generation Texan having spent his early years in the United Kingdom as an "air force brat", and his formative years growing up in Southern California beach towns; Huntington Beach, Newport Beach and Laguna Beach, California. He was accepted into the prestigious UCLA Film School but chose instead to focus on contemporary art and attended Parsons School of Design in New York as well as the Otis Art Institute of Parsons School of Design in Los Angeles, CA and later
attended the University Of California at Irvine.
Robert began creating large scale works of art & editions from his downtown Los Angeles loft before leaving school. His first solo painting exhibition was held at the Jerry Solomon Gallery in Los Angeles, CA in November 1986 and sold out.
Santoré has had solo exhibitions sponsored by the City Of Los Angeles, Security Pacific Bank/The Los Angles Museum of Contemporary Art, The Los Angeles Municipal Art Collection, The Jerry Solomon Gallery in Los Angles, The Brenden Walter's Gallery in Santa Monica California and The Portfolio Gallery of Fine Art in Beverly Hills, California and has participated in many group shows & exhibitions both in the United States & internationally.
Robert is in the permanent collections of The Newport Harbor Art Museum, The Laguna Beach Museum of Contemporary Art and the San Jose Museum of Art and is in many private and notable corporate collections.
Robert, an avid surfer to this day, also embraced competitive alpine skiing as a teen and was selected by the United States, Jr.
National Alpine Ski Team (US Ski Team B Team). He continues to enjoy travel to both the South Pacific and Europe in particular, where he is able to satisfy his love of both sports, new experiences & continued exposure to classical and contemporary art, sculpture and architecture.
After many happy years in the Berkshire Mountains in Western Massachusetts, he returned to Manhattan where he concluded a career as an award winning creative director and user experience strategist. In 2018 Robert returned to Texas to the property held by his family since 1818 and continues painting in earnest and splits time between his Texas Art Ranch and his Manhattan loft in Soho.
Robert has had the great fortune of meeting many other celebrated artists starting with Andy Warhol, Keith Haring & Jean Michel Basquiat while still a student at Parsons. Others artists he has admired and met are Jim Dine, Ed Ruscha, Ed Moses,
Robert Longo, Billy Al Bengston, Larry Bell, Craig Kauffman, Chuck Close, Julian Schnabel, Eric Fischl et al.
Robert is currently working in oils, watercolor and gauche, egg tempura, and producing sculptures in steel and wood. Santore is an extremely versatile artist & craftsman who brings his myriad of experiences and his unique vision of life and beauty to his remarkable works of art Santoré traveled extensively through Europe and the South Pacific his current work focusing on the juxtaposition of experience, events and memories from his travels.
For inquires:
IG: @RobertSantoreArt
RobertSantore.com
hello@robertsantore.com
+1 (936)276-8783

FADDY MAGAZINE USA is a global fashion & luxury lifestyle publication headquartered in New York City.
FADDY MAGAZINE USA
New York, New York, United States
Sign up for the FADDY MAGAZINE'S eNewsletter. (We never share your information, with anyone)